Onyx Boox Tab X and Tab Ultra.
It's an A4-sized E Ink tablet from the brand Onyx Boox,13.3-inch E Ink tablets0. Tab X and tab Ultratakes digital reading and note taking to the next level. It''s 13.3-inch screen is perfect for editing documents (magazine editors will relate), reading comics and graphic novels. The packaged stylus offers a wonderfull writing experience, making the Tab X a very capable productivity tool faster than his predecessor Max 2, 3 and Lumi.
So despite seeing the images is in black and white that to be an issue but franckly not, that help to think at the composition and dimish the eyes fatigue.
The Tab X might weigh 560g, but you wouldn't know that when you pick it up – it's just so well balanced that it feels surprisingly light, and I had no trouble using it on the train commute into work. With a uniform thickness of 6.8mm all round, it's sleek and the rear plastic panel has a matte finish that makes it look like metal.
The display, which is an E Ink Mobius Carta screen, has a resolution of 207ppi and supports 16 shades of gray. Despite a lower resolution as compared to other 10.3-inch e-paper writing tablets at 300ppi – like in the Amazon Kindle Scribe and the Onyx Boox Note2 Air Plus – everything is rendered quite crisply but, if you've used a higher resolution screen before, you might find yourself increasing the boldness of the text to make it look sharper. On the inside, you get an octa-core 2GHz Qualcomm 662 chipset, accompanied by 6GB of RAM and 128GB of onboard storage. That's pretty impressive for an e-ink tablet and that means it can handle a lot, including playing videos… in black and white of course.
Also on the rear are dual speaker grills – yes, you can add music files and enjoy some tunes while you work. Or listen to audiobooks that you've sideloaded or any other audio file in MP3 or WAV format. What I did not expect is how loud the Tab X can get. Now, sound quality isn't anything to write home about, with most music sounding a little tinny, but it's a sight better than what I've experienced with the PocketBook Era. You can, of course, pair Bluetooth headphones or speakers too.
The Onyx Boox Tab X have finger print sensor
Best drawing app for Onyx Boox tab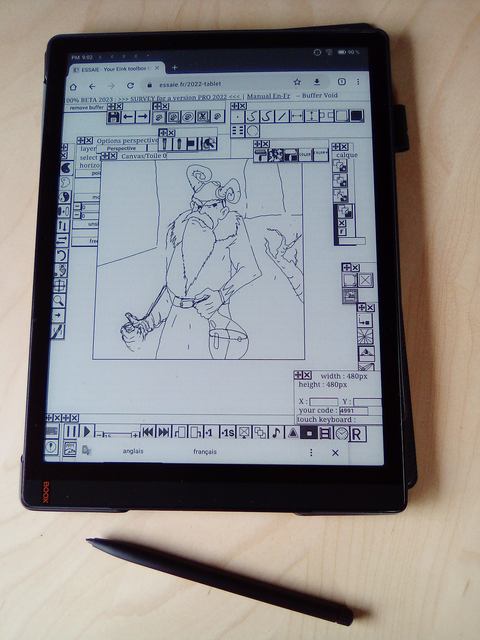 Franckly this animation software is the most complete of the ereader market, speed and esealy to udnerstand, and often updated.
With marble and wave textures, timeline with a light table WOW !
Best paint app waited for sketching and animate with a boox ereader.
I've been waiting for one of these eink tablets to finally offer a raster based drawing app that wouldn't bog down overtime like the default vector notetaking apps that come with remarkable, onyx boox, supernote and who is limited. I was excited about Onyx Boox Tab X and Tab Ultra and the entire android app market to deliver, but was dissapointed in the performance of Sketchbook and other painting apps on my first device the Note 5. But finally the Tab Ultra delivers with this 2d animation software a super painting apps working great, even better with ultrafast mode. So yeah this is for any other artists out there waiting to pull the trigger.
Comment from a reddit user.